---
Travursity Rolling Out Fall Registration
Fall is around the corner and Travursity Travel Showcase has just opened our first 7 events on the schedule to travel agents to register to attend.  All 7 events are new regions where we have not yet brought our showcases to, so we are extremely excited to meet all of you there.  Here is the... View Article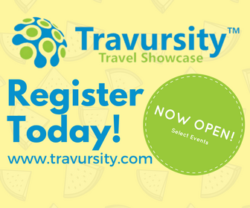 Fall is around the corner and Travursity Travel Showcase has just opened our first 7 events on the schedule to travel agents to register to attend.  All 7 events are new regions where we have not yet brought our showcases to, so we are extremely excited to meet all of you there.  Here is the list of the events that are currently open for registration!  Sign up today!!
Fall 2017

09/06/2017              Portland, OR

09/10/2017               Seattle, WA

09/27/2017               Providence, RI

10/11/2017               Cincinnati-Dayton, OH

10/12/2017               Memphis, TN*

10/25/2017               Pittsburgh, PA*

10/26/2017               Raleigh, NC

11/1/2017                 Orlando, FL* (Currently Not Opened Yet)  Now Open for Registration!!!

*A "Travursity Agent Experience" Event
We look forward to seeing you all at a Travursity Travel Showcase near you; and if you don't see us on the schedule, drop us a line and let us know where you would like us to bring our events!
Registration for remaining Fall 2017 schedule will open soon…stayed tuned!
---