Supplier Registration
---
Travel Partner Showcase Registration
Travursity now makes it easier to register for upcoming events with our Online Registration Form!  Just click the red button below and complete the form online.  Reserving your spot couldn't be easier!
---
Registration is Now Open for All 2020 Showcases!
Travursity's 2020 Black Friday Promotion is Back for a Limited Time!

Join us as we celebrate Travursity's 5th year Anniversary with these special limited discounted rates!
Save from 6% – 14% on standard Rack Rates* on all packages and options.  Promotion ends 12/31/2019
SAVE   6% per event – Sampler Package (Register for 1 or 2 events in 2020)
SAVE 12% per event – Multi-Show Package (Register for 4 or more events in 2020)
SAVE 14% per event – Full Season Package (Register for all 10 events in 2020)
Click "Register Now" button below:

Click on the image below to open our 2020 Showcase Info packet.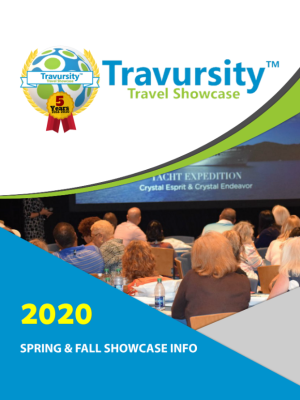 All inquiries should be made to:


Travursity, LLC
PO Box 951004
Lake Mary, FL 32795
(888) 860-TRAV (8728)
sales@travursity.com
 To receive updates on our schedules or to be notified of upcoming events, please provide us with your contact information.
---