Supplier News
---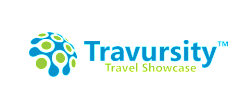 Travel Suppliers News & Updates
January 2, 2018 –
Happy New Year!

Travursity Travel Showcase Supplier Exhibitor Space is available for All 2018 Dates

Registration is open for supplier exhibitor space for all dates.  Exclusive Pre-Event Presentation opportunities are limited and filling quickly.
December 12, 2017 – Travursity Travel Showcase Supplier Promotion Expires at the End of December. This promotion has ended.
Early Bird supplier registration is in full force through the end of 2017.  Register today and save on all 2018 dates.  Click here for details or register online at Exhibitor Registration.
November 11, 2017 – Travursity Travel Showcase Launches Black Friday Promotion for 2018 Exhibitor Space. This promotion has ended.
Travursity, LLC once again, is offering its Black Friday Promotion to all industry suppliers.  Register by 12/31/17 to save 6%- 12% off regular rack rates.  Click here for details or register online at Exhibitor Registration
July 19, 2017 –
NEW

– 2018 Upcoming Season Schedule has been Released
Check out the new 2018 schedule for the latest showcase dates!
Spring 2018                                                                        Fall 2018

02/28/18              New Orleans, LA                              09/12/18              Minneapolis, MN

03/07/18              Ft. Lauderdale, FL                            09/13/18              Detroit, MI
03/28/18              San Antonio, TX                                09/26/18              Colorado Springs, CO
04/11/18              Louisville, KY                                     09/27/18              Dallas, TX

04/12/18              Atlanta, GA                                        10/24/18              Arlington, VA
05/03/18              San Diego, CA                                    11/07/18              Orlando, FL

June 26, 2017 – 2018 Upcoming Season Schedule will Soon Be Released
Stay tuned to learn where Travursity Travel Showcase is going to be next year in 2018.  Our schedule looks to break new ground in many new regions and we are excited to meet new agents and help them grow their business.  Sign up below to be the first to receive the latest news and click to see what Travursity has to offer at http://travursity.com/suppliers/supplier-benefits/
April 28, 2017 – Travursity Wraps 2017 Spring Season
The 2017 Spring season of showcases came to an end on April 27th in St. Louis.  The events were packed with agents looking to build their business relationships and learn more about new brands and destinations. The Fall season is rapidly approaching and exhibitor/supplier space is available for registration at http://travursity.com/suppliers/terms-and-registration/
Jan. 26, 2017 –

Travursity Market Update



Travursity, LLC strategically partners with leading travel industry marketing firms; allowing multiple travel agent databases of over 100,000+ each receiving our promotional and marketing pieces. Along with an ever growing database of interested and attending travel agents; Travursity Travel Showcase is connecting with the agent segment on a high national level while continuously expanding our market exposure.
Our marketing reaches the agent industry as a whole and we welcome all established and/or  new agents, brick & mortar, hosted or independent agents as long as they are actively selling travel and can verify their credentials to attend our events.  Travursity supports all travel related organizations and associations as well and welcome their support and participation.
Jan. 17, 2017 –
NEW

– Travursity Marketplace Table
Are you a host agency, special interest group, trade publication, travel agent organization or association?  Now you can put your organization's materials in front of active and producing agents at each event with our new Travursity Marketplace Table.  Click here for details, rates and registration.
Jan. 6, 2017 – Happy New Year!
We are excited to launch a new year of showcases across the country.  We look forward to bringing in new suppliers and welcoming back suppliers that supported the travel agents in 2016.  Contact us for event details, rates and registration or click here for more information.
Nov. 30, 2016 – New Online Travel Supplier Event Registration
Travursity is excited to announce new online registration for travel suppliers.  This easy to complete form makes securing exhibitor space more efficient and convenient allowing for quick turnaround on invoicing and payment. Book your locations and space today by clicking the button below!

Nov. 7, 2016 – Travursity Launches Black Friday Sale
Travursity launches its first Black Friday Sale for all 2017 events.  Save 6-12% on all exhibitor space contracted before 12/31/2016.  Contact sales@travursity.com for further details.
Click here for Black Friday Promotion

This promotion has ended

.
Oct. 1, 2016 – 2017 Travel Supplier Rates Change
2017 showcase rates have been restructured to offer a better value to participating suppliers.  We streamlined the options and lowered the pre-event presentation and simplified your options.  We still include all the benefits of marketing and exposure that we provide in all our packages.
 
We take pride in what Travursity Travel Showcase offers our Travel Suppliers and we have only just begun in creating the premier regional tradeshow.
We look forward to hearing from you and finding new ways to build our relationships.
Sign up now to be notified of new events, locations and schedules as well as early bird registration and pricing.
Please contact us at info@travursity.com to inquire how we can maximize your investment!
---